Richland Airport &
Pilot Information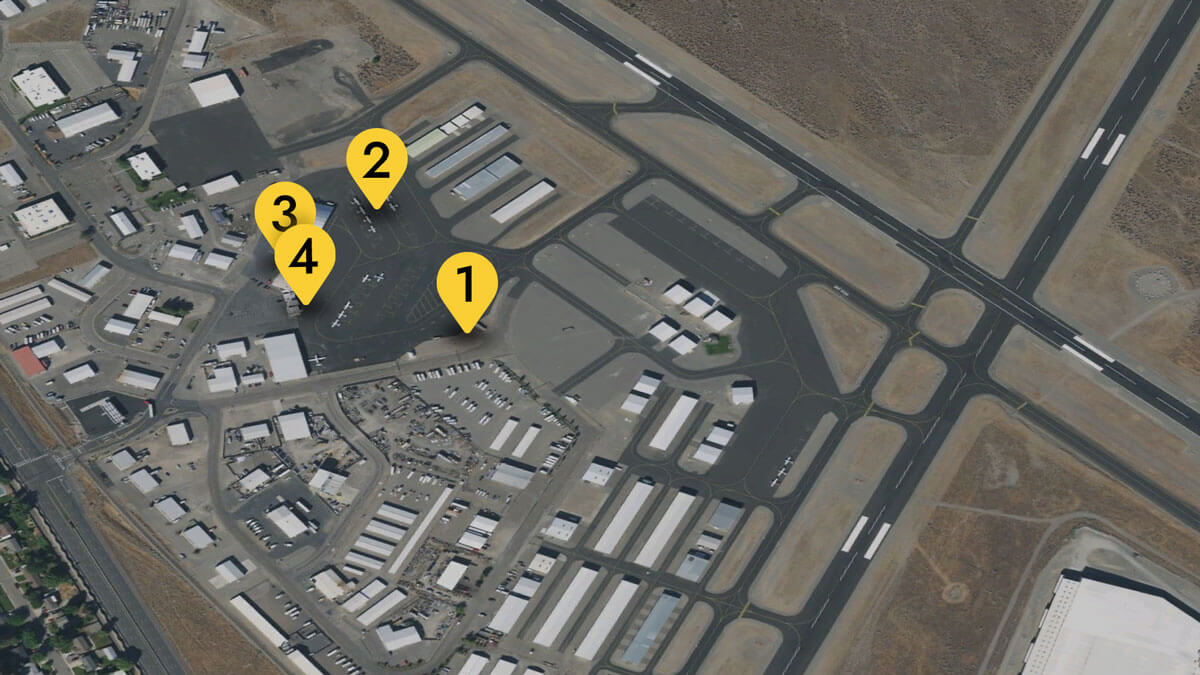 The Richland Airport serves regional business aviation customers who value quick access to the Tri-Cities, Hanford Site and surrounding communities. This general aviation airport has two paved runways, a fixed base operator, fuel and other amenities with nearby highway and interstate access.
Pilot & Airport Information Richland Airport (RLD)
Automated Weather Observing System (AWOS)
An Automated Weather Observing System is in place at the Richland Airport. You can access this information by phone: 509-375-4247 or by frequency 132.675 MHz.
Avgas 100LL and Jet A is available 24 hours via credit card. Jet A fuel is available by truck during normal business hours; contact FBO for availability.
The pilot lounge is open during normal business hours. After hours it has a numeric keylock number that can be obtained through the Pasco Airport Tower.
Hangar & Tie Downs Information
Hangars: All hangars are privately owned. Contact the airport manager for available land lease information if you are interested in building a hangar at the airport.
Tie Downs: The Richland Airport has 150 tie-downs and a no-fee policy for up to seven days. There are no landing fees or terminal use fees.
There is one Fixed Based Operator at Richland Airport that can be reached at (509) 946-2515. View AirNav for current FBO availability and services.
Mechanical & Other Services
Quentin Wright
Airport Manager
46-18-20.3 N / 119-18-15.1 W
1903 Terminal Drive
Richland, WA 99354
2022 Approved Policies and Standard Leases
Drones, Obstructions, and DBE
Before operating a drone/UAS within 5 miles of our airports or at any other Port of Benton property or facility, operators must obtain
written authorization
from the Port for each flight. Contact the Airport Manager during our normal business hours to discuss your request. Additionally, it is the responsibility of the operator to ensure that all
Federal Aviation Administration (FAA)
regulations and Washington state laws are followed. Each time you consider a flight, be sure to:
Obstruction evaluations are vital to keeping air traffic operations safe. These evaluations apply to all construction taking place at the airport, and many projects outside the airport. Obstruction evaluations often apply to buildings, antennas, towers, cranes (even temporary) and other structures that have the potential to interfere with airspace, aircraft approaches and ground equipment located at the airport.
If you have questions regarding your project, please contact the Airport Manager at 509-375-3060.
According to 14 CFR Part 77.9, any person or organization must notify the FAA Administrator if they intend to sponsor any of the following construction or alterations:
Construction or alteration exceeding 200 feet above ground level
Construction or alteration:

Within 20,000 feet of a public use or military airport which exceeds a 100:1 surface from any point on the runway of each airport with its longest runway more than 3,200 feet
Within 10,000 feet of a public use or military airport that exceeds a 50:1 surface from any point on the runway of each airport with its longest runway no more than 3,200 feet
Within 5,000 feet of a public use heliport that exceeds a 25:1 surface

Highway, railroad or other traverse way whose prescribed adjusted height would exceed the above-noted standards
When requested by the FAA
Construction or alteration located on a public-use airport or heliport regardless of height or location
Visit the FAA's Obstruction Evaluation / Airport Airspace Analysis webpage for more information regarding whether or not you will need to file FAA Form 7460-1.
Additional information can be found on the Washington State Department of Transportation obstruction evaluation webpage.
To learn more about the Port's Disadvantaged Business Enterprise Program, visit our Disadvantaged Business Enterprises webpage.
NOTICE
Port of Benton's FY 2021-2023 Disadvantaged Business Enterprises goal for the Richland Airport is 0.26% DBE Participation to be obtained through 0.26% race-neutral and 0.00% race-conscious means.
A copy of the DBE goal and the calculations used to determine this goal may be obtained by contacting Bryan Condon, Century West Engineering, at bcondon@centurywest.com.
Rules & Regulations Frequently Asked Questions