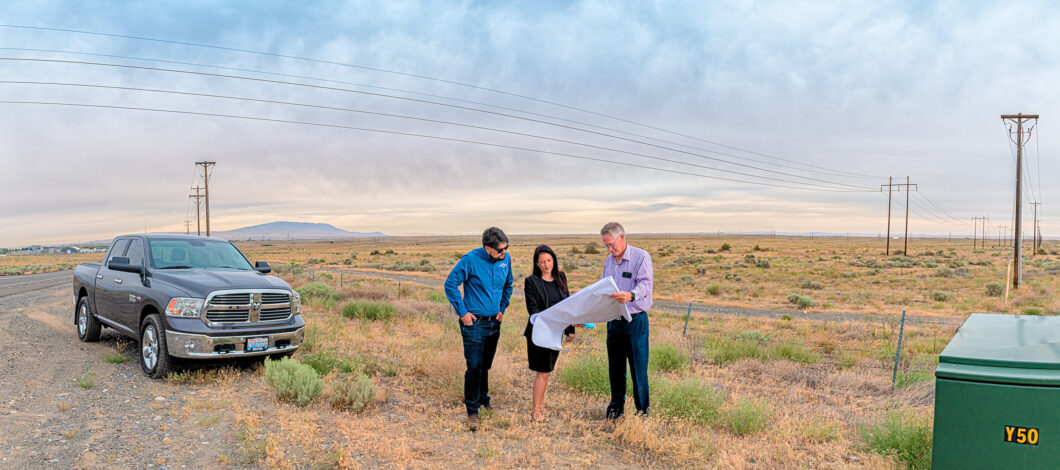 Coming Soon
200+ acre sites available
Adjacent solar farm under development with capacity available
Distanced from residential impact while quickly accessed from major routes
Short distance to general aviation airport
Reliable fiber broadband available with your choice of retail service provider
Natural gas available, stubbed to site
Near Hanford and Pacific Northwest National Laboratory
Adjacent to dual-served Class I rail; extension spur necessary to utilize on-site
Mega-Site Industrial Center
North Horn Rapids comprises 1,641 acres owned by the Port of Benton, City of Richland and Energy Northwest. This area was acquired from the U.S. Department of Energy in 2016 and designated for mega-site industrial uses benefitting growth of the local economy.
The Port and City completed the North Horn Rapids Area Master Plan in 2017, which designates the planned infrastructure improvements to serve the sites. Through local, state and national grant funding, the Port and City intend to bring infrastructure to the site. However, most available funding is conditional upon an affirmed business user letter of interest (LOI). The Port and City are actively seeking large industrial users interested in the long-term development of this site.
North Horn Rapids offers unparalleled potential for industrial users in the clean energy development and advanced modular reactor manufacturing sectors. Its location away from residential development ensures a separation of incompatible uses and places it near to existing Hanford Site development and U.S. Department of Energy subcontractors.
In the transition to a post-Hanford economy, north Richland is home to businesses focused on clean energy research and development and innovations in battery storage, solar and hydropower. To the north of this property, Energy Northwest has subleased land for advanced solar demonstration producers that are currently offering power purchase opportunities.
| | |
| --- | --- |
| City: | Richland |
| County: | Benton |
| State: | WA |
| Zip Code: | 99354 |